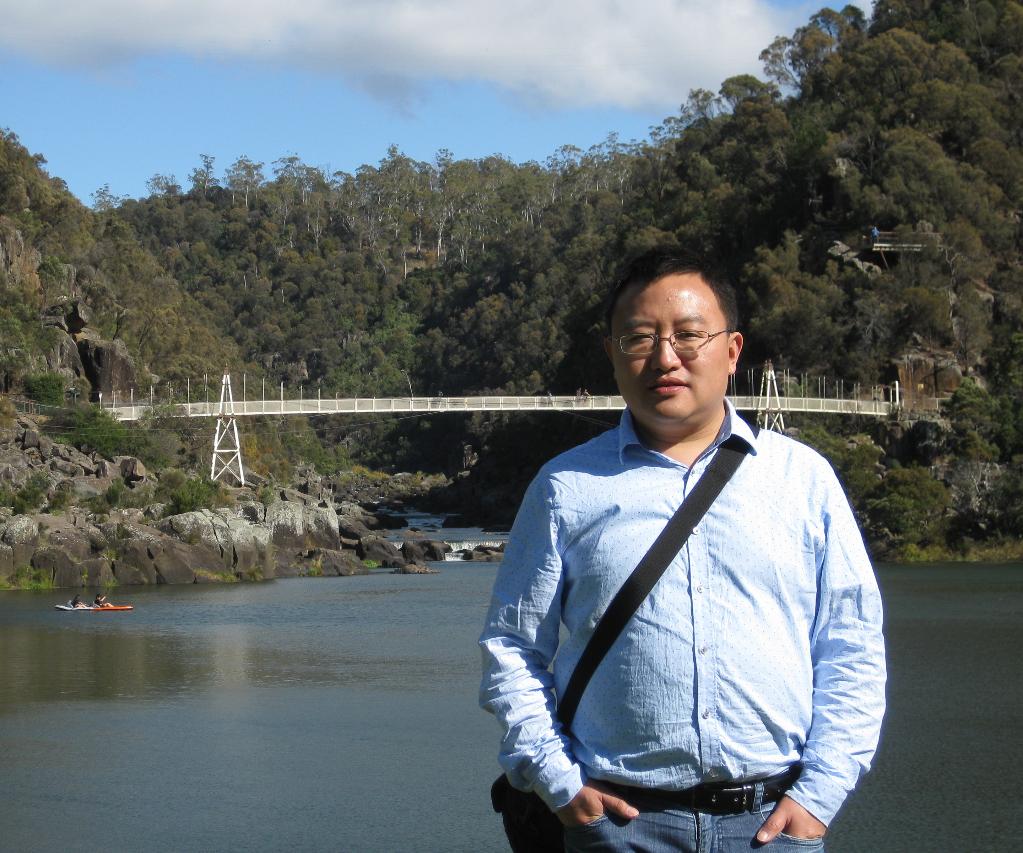 张健,男,1978年出生,博士,副教授 (院聘)
中共党员,上海理工大学 环境与建筑学院 环境科学与工程系
Email: jianzhang@usst.edu.cn,jzhang66@163.com
办公室:环境与建筑学院楼109室
一、主要学习与工作经历
2015.09-至今 上海理工大学任教
2012.03-2015.03 澳大利亚 莫纳什大学 化工学院,博士后研究员
2010.12-2012.03 上海交通大学 机械与动力工程学院,博士后
2005.03-2010.11 上海交通大学 机械与动力工程学院,博士
2002.09-2005.03 同济大学 机械与能源工程学院,硕士
二、主要研究方向
1. 大气污染物控制技术
2. 煤燃烧中灰渣的结焦沾污机理
3. 多相流及燃烧CFD数值模拟
4. 富氧燃烧及CO2捕集技术
三、主要科研工作与成绩
主持或参加的科研项目:
1) 澳大利亚ANLEC项目,Accelerating the Deployment of Oxy-Fuel Combustion Technology for Victorian Brown Coal,2014-2015,参与;
2) 澳大利亚ANLEC项目,Pilot-scale oxy-fuel combustion of Victorian brown coal,2012-2014,参与;
3) 中国博士后基金,受控扩散燃烧干排渣煤气化中碳迁移机理研究,2011-2012,主持;
4) 上海市科委项目,两段供氧干排渣加压气流床气化技术开发,2010-2012,参与;
5) 自然科学基金重点项目,NO.50736006-03,煤粉火焰中多相燃烧的跨尺度模拟,2008-2011,参与;
6) 国家基础研究973项目,NO.2006CB200303-03,超细煤粉再燃脱硝临界现象的实验研究及其模化,2007-2010,参与;
7) 国家基础研究973项目,NO.2004CB217703-04,CO边界层反应对煤粉火焰稳定性及其气化过程影响的数值模拟研究,2005-2009,参与;
8) 上海市科委项目,宝钢电厂350MW电站锅炉低NOx研究,2002-2004,参与;
9) 上海市科委项目,电站锅炉一次风粉在线监测的实用管道压差方法研究,2002-2004,参与。
期刊论文:
1) Jian Zhang, Qunying Wang, Yajuan Wei, Lian Zhang. Numerical Modelling and Experimental Investigation on the Use of Brown Coal and its Beneficiated Semi-coke for Coal Blending Combustion in a 600 MWe Utility Furnace. Energy & Fuels 2015. 29(2):1196-1209. (SCI)
2) Jian Zhang, Baiqian Dai, Ying Meng, Xiaojiang Wu, Jianwen Zhang, Xiang Zhang, Yoshihiko Ninomiya, Zhongxiao Zhang, Lian Zhang. Pilot-Scale Experimental and CFD Modeling Investigations of Oxy-Fuel Combustion of Victorian Brown Coal. Fuel 2015, 144: 111-120. (SCI)
3) Jian Zhang, Wirhan Prationo, Lian Zhang, Zhongxiao Zhang, Computational fluid dynamics modelling on the air-firing and oxy-fuel combustion of dried Victorian brown coal, Energy Fuels 2013, 27: 4258-69. (SCI)
4) Jian Zhang, Ming-Chuan Zhang, Juan Yu. Extended Application of Moving Flame Front Model for Combustion of a Carbon Particle with Finite-Rate Homogenous Reaction. Energy & Fuels 2010, 24 (2): 871–879. (SCI)
5) Wirhan Prationo, Jian Zhang, Jianfang Cui,Yatao Wang,Lian Zhang,Clarifying the influence of moisture on the ignition and combustion of wet Victorian brown coal in air-firing and oxy-fuel modes: Part 2: Contribution of gasification reaction to char oxidation rate,Fuel Processing Technology 2015,138: 680-686. (SCI)
6) Wirhan Prationo, Jian Zhang, Jianfang Cui, Yatao Wang, Lian Zhang. Influence of inherent moisture on the ignition and combustion of wet Victorian brown coal in air-firing and oxy-fuel modes: Part 1: The volatile ignition and flame propagation,Fuel Processing Technology,2015,138:670-679. (SCI)
7) Wirhan Prationo, Jian Zhang, Xiaojiang Wu, Xiaodong Chen, Lian Zhang, Influence of external clay and inherent minerals on lignite optical ignition and volatile flame propagation in air-firing and oxy-firing, Industrial & Engineering Chemistry Research 2014, 53(7): 2594-2604. (SCI)
8) Juan Yu, Ming-Chuan Zhang, Jian Zhang. Experimental and Numerical Investigations on the Interactions of Volatile Flame and Char Combustion of a Coal Particle. Proceedings of the Combustion Institute. 2009. 32: 2037-2042. (SCI)
9) Juan Yu, Ming-Chuan Zhang, Jian Zhang. An Improved Model for Char Combustion in Blast Furnace Pulverized Coal Injection. Steel Research International. 2009. 80 (10): 714-723. (SCI)
10) 张健, 章明川, 顾明言, 等. 湍流煤粉火焰中多相燃烧的跨尺度模拟方法及应用.工程热物理学报.2012.33(1): 155-158. (EI)
11) 胡世磊,张健,张忠孝,等. 高灰熔点煤气化反应特性的理论分析. 工程热物理学报. 2012, 33(6): 1069-1072. (EI)
12) 张健, 章明川, 于娟, 等. 考虑颗粒边界层气相反应的炭粒气化过程模型预报. 燃烧科学与技术.2011,17(1): 49-55. (EI)
13) 林郁郁, 张楚, 章明川, 张健, 徐旭常. CaO伴随生物质热裂解制油同时脱氧的小型流化床实验研究. 燃料化学学报. 2011, 39(03) 182-188. (EI)
14) 林郁郁,张楚, 张健,章明川. CaO伴随生物质热裂解固体产物分析.工程热物理学报. 2011,12. (EI)
15) 陈磊,范浩杰,吴磊,张健,章明川. 煤粉燃烧器使用少油点火技术的数值模拟. 动力工程学报, 2011,31(3):165-1692.
16) 张健, 章明川, 于娟, 等. 移动火焰锋面(MFF)模型的理论对比与实验验证. 工程热物理学报. 2010.31(1):157-160. (EI)
17) 张健, 章明川, 于娟, 等. 有限气相反应速率条件下MFF模型应用方法的研究. 工程热物理学报. 2010.31(4): 709-712. (EI)
18) 张健, 章明川, 于娟, 等. 煤粉挥发分火焰行为的理论分析与简化模拟方法. 工程热物理学报. 2009.30(4):711-713. (EI)
19) 张健, 章明川, 于娟, 等. 均相着火后挥发分燃烧的移动火焰锋面模型. 燃烧科学与技术. 2009.15(5): 451-456. (EI)
20) 张健, 章明川, 于娟, 等. 移动火焰锋面(MFF)模型火焰锋面确定条件的进一步改进[J]. 工程热物理学报. 2007.28(S2). (EI)
21) 朱巧红, 林建平, 张健, 等. 汽车用U型件热成形模具散热的瞬态计算与分析. 模具工程. 2007 (1): 80-83.
22) 安恩科,张健,周洪权. 电站锅炉燃烧过程数值模拟的收敛性分析. 同济大学学报(自然科学版). 2005, (01) 121-125. (EI)
主要会议论文:
1) Jian Zhang, Lian Zhang. Blending Beneficiated Brown Coal with High rank Coal for the combustion in Pulverized coal–fired Boiler. Chemeca conference, Sept. 2014, Perth, Australia.
2) Jian Zhang, Wirhan Prationo, Baiqian Dai, et al. 3MW Pilot-Scale Oxy-Fuel Combustion of Victorian Brown Coal. 3rd International Oxy-fuel Combustion Conference. Sept. 2013, Ponferrada, Spain.
3) Ming-chuan Zhang, Jian Zhang, A Binary Monte-Carlo Approach for Cross-scale Modeling the Multiphase Combustion in a Turbulent Pulverized Coal Flame, Australian Combustion Symposium, Nov. 2013, Perth, Australia.
4) Xiaojiang Wu, Bai-qian Dai, Kai Yan, Jian Zhang, et al. Experimental study on ash deposition characteristics of Victorian brown coal in pilot-scale oxy-fuel combustion. Chemica conference,Perth, Australia, 2013.
5) Fiona Low, Bai-qian Dai, Anthony De Girolamo, Jian Zhang, Alice Yuan Chen, Lian Zhang. Emission of organically bound metals during the pyrolysis and char oxidation of lignites in oxy-fuel combustion mode. Chemeca conference, 2013, Brisban, Australia.
发明专利:
1) 张忠孝, 张健, 胡世磊. 分级供氧、可控火焰水煤浆气流床组合喷嘴,CN102492477, 2014.
2) 张忠孝, 樊俊杰, 张健, 胡世磊. 分级供氧干排渣加压气化试验系统,CN102585907,2013.